Last updated on October 7, 2020
Maintenance of aircraft is highly dependable from parts and materials procurement. This area takes the biggest percentage of the market and therefore it requires deep analyses. The predictive maintenance cost of parts and maintenance could be cut up to 20%. This is the reason why companies are taking a lot of time on finding the best solutions for their needs. In the industry of aircraft parts and materials, supply time plays an equivalent role as the price of wanted goods.
Since the beginning of the last decade and aviation industry growth acceleration, all connected industries got high demand for growth. In this manner, there came a lot of innovations and maybe most of them happened in materials and parts procurement. Every innovation by anyone in the chain is making all others to adopt their services. With the start of first online stores (marketplaces) for essentials, the chance was given to many to push the speed of their call to action response.
There are a lot of problems in this industry, we have already mentioned some of them in "Leading problems in aircraft parts and materials market" and we are not going to talk about them in this article.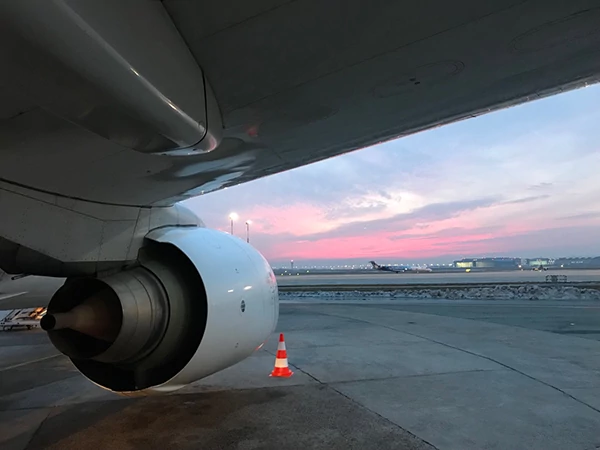 As the number of aircraft in use has almost doubled in the past two decades the need for parts and materials has raised for more than equal. This has been aa big opportunity for manufacturers to with the higher production and to speed up their lines so they could provide prompt action for market requirements. in the meantime aircrafts usage got higher and the need for spare parts has grown as well, so not only that manufacturers had to fulfill the need for aircraft production, they also needed to make enough parts for their maintenance in the future. With the jump of the average number of cycles/hours per day, there came a need for more frequent replacement of life-limited parts. All of this has affected original manufacturers but also made a huge gap for third party companies and PMA manufacturers.

Not only that the need for producing new parts has grown, but also the need for maintenance of serialized parts got its expansion over time. Maintenance of these parts has not only scaled up with this need, even the number of reparable parts has grown so the pressure to production can be released and as well to cut the cost of maintenance as overhaul is cheaper than buying a new part in most of the cases.
The next natural part of the MRO supply chain is distributors and stores. Every MRO makes its own group of local and global suppliers to cooperate with. That way they are making a network that is dedicated to more than 80% of their materials and parts procurement. Mostly, problems could be seen in that 20 % of parts and materials that can't be found in their dedicated network. Therefore, a decade ago, first online stores and e-marketplaces found its place in this area of supply chain and made most of distributors and suppliers gather in one place. This gave a huge push to the MRO supply world as they provided a lot easier, a bit cheaper, and a more stable market. This way those companies made a network of suppliers suitable for almost all MRO companies. Since it was not enough, in the past few years they are even making collective stores in many countries as they have information on what are the most wanted item by countries and they are bringing those even closer to their consumers.
After all this, there is still a question, how to lower the cost of shipping and make it faster as in some cases the price of shipping can overrun the price of the order or the lead time is not suitable with a maintenance plan. The logistics department is taking a huge role in this part of the MRO supply chain. In MRO supply chain logistics are bringing the most efficient solution for every order concerning purchase cost, time and cost of shipping, special requirements for transportation, quality of supplies, etc. As well, logistics are taking control of customs. Customs is a small but unavoidable part of most of the orders as many parts can't be found behind a corner so many orders are traveling overseas. Simply, logistics are the brain of aircraft parts and materials supply chains.
MRO services and Airliners as a reason for the supply chain to exist is the engine of it. Their needs are always different and therefore they have separate strategies for their role in the supply chain.

As an airline, by the choice of the fleet, they are choosing most of the main suppliers as their need is dependable on the type of aircraft and its equipment. In this manner, they are making their own store for most needed materials. Big airliners are even reselling their stock as they are getting better prices because of quantity. In a matter of lowering the cost of their maintenance airliners are purchasing goods in advance as they know ahead what are they going to need on future maintenance checks. As well as that they are cooperating with their maintenance providers to be sure they are not buying something they might not need.

On the other side, there are maintenance providers or MRO companies that are lowering the cost of their parts and materials by buying them in advance and on larger scales as there are some parts and materials which are in constant need for performing maintenance it predicted time. Like the airliners, MROs are also reselling their surplus in stock if they see they can make a profit of it.
Concerning all this, the MRO supply world is made of many pieces and its dynamic by itself. The number of 2 million people around the world involved every day in this market could show you a little bit closer how big is it. Also, there are around billion different part numbers in use, more than 20 thousand shipments every day, more than 10 thousand companies involved, over 1 million tones of goods shipped every year and more than 25 billion dollars of yearly turnover
. These are just some of the numbers that can describe how huge is this industry and also how complicated is it.